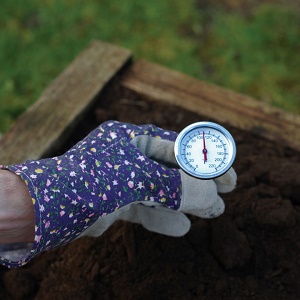 Compost thermometers let you know the temperature and health of your compost pile. Simply place the stem in the middle of your pile to get an accurate reading.
The composting process consists of beneficial microbes breaking down your yard waste and kitchen scraps into fresh, usable soil for your lawn, garden and flower beds.
When you use a compost thermometer, you will know the inner workings of your pile, and correct any problems and imbalances to speed up the soil-making process.
Here are a couple of compost thermometers to choose from for your garden composter.
Cate's Garden Premium Stainless Steel Bimetal Thermometer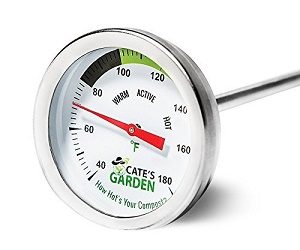 The Cate's Garden Thermometer has an easy to read inch wide dial with color-coded temperature ranging from 40 – 180 Fahrenheit, in two-degree increments for accurate readings.
The thermometer is made of high-quality and lightweight PC-coated lens, hermetically sealed to avoid fogging and moisture.
It is also has a tough, reinforced welded bolt between dial and stem for long-lasting operation and conditions.
It is also made of high quality 304-grade rust-resistant stainless steel.
The stem of the thermometer is 20 inch in length and 3/16 of an inch in diameter for accurate readings.
The temperature is read from the tip and takes about 30 seconds.
Premium Stainless Steel Soil Thermometer with Extra Thick Probe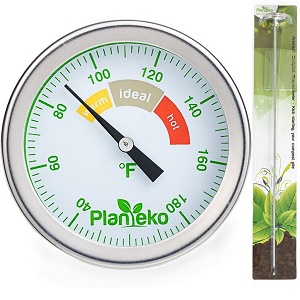 The dial on this thermometer is extra easy to read. Just make sure you are in the right zone and your compost will prosper all on its own.
This thermometer is long enough to stick into any compost pile, all while being extra durable so your thermometer won't break or bend.
Conventional lenses will fog easily when left outside. The lens on this thermometer has a special coating that prevents moisture from getting inside.
With this compost thermometer, you can be assured that your compost is as efficient as possible.
You will find everything you need to know about creating a prospering compost on the back of the package.
Using a Compost Thermometer Video:
Look at all The Great Composters!
---