Now you can create an economic composting system with the Greenes Fence Cedar Wood Composter. These cedar bins allow you to turn household waste into a natural food for your lawn, garden, and flower beds.
Greenes Fence Cedar Wood Composter Features
Standard kit includes 4 posts, 28 boards, and 48 spacers

Made from naturally rot and insect-resistant North American Cedar

Assembles with only a rubber mallet

Easy to add new material and remove finished product

Forms a two or three bin composting system with purchase of

Greenes add-on kits

To avoid removing boards the front section can be setup without spacers

For easy access setup the front section with as many boards as desired
Greenes Fence Cedar Wood Composter Description
This composter is very easy to use. You simply layer greens (such as vegetable and fruit peelings, coffee grounds, tea bags, and grass clippings) and browns (such as eggshells, cardboard, corncobs, and cotton towels) and allow the materials to compost.
What we Liked Most about the Greenes Fence Cedar Wood Composter
We like that this composting bin is super easy to put together. It is definitely low tech when it comes to composters. However, the good thing about it is you can add more bins. This is especially great if you have a large garden or lots of kitchen scraps.
What we Did Not Like about the Greenes Fence Cedar Wood Composter
We found that a few people had trouble with the assembly. They found that the material was cut much rougher than it appeared in the product photos. Some people also had to clean up the slats to make them slide into the posts. However, this is a minor problem and just takes some work to get it assembled.
Greenes Fence Cedar Wood Composter Information Link:

Wood Composting Bin
More about the Greenes Fence Cedar Wood Composter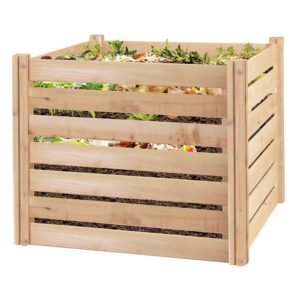 This composter makes for an environmentally friendly, economic composting system.
The bins open design makes it easy to turn the pile every two or three weeks with a shovel or pitchfork
You will need to aerate the product in order to speed up the breakdown process.
Depending on the climate and the mix of materials, your compost will be ready to use in around 3 to 12 months.
To keep a continuous supply, create a multi-bin system with the add-on kits that are available.
After one bin is full and the materials have begun to break down, simply move them to the next bin.
This process can then be repeated and as well they come in several different sizes.
Greenes Fence Cedar Wood Composter Information Link:

Wood Composting Bin
---