The Redmon Green Culture Compost Bin saves money by reducing curbside pickup and landfill waste. It produces nutrient rich organic soil for healthier plants and gardens.
Redmon Green Culture Compost Bin Features
Made of rugged, weather-resistant plastic resin

Holds 65 gallons or 8.6 cubic feet

Has a convenient lift-off lid for easy access

There are ventilation holes for proper composting

Has four door access
Redmon Green Culture Compost Bin Description
Now you can help the environment while also helping your family save money with this composter. This bin holds up to 65 gallons and is constructed of rugged plastic resin. Leave it out year round and it won't deteriorate. It has a convenient lift-off lid that makes it easy to add more material.
What we Liked Most about the Redmon Green Culture Compost Bin
We like that there are four doors, one on each side, for additional convenient access points. As well there are ventilation holes throughout help with proper composting. This means that the compost will get proper air flow and the material will compost rather than rot.
What we Did Not Like about the Redmon Green Culture Compost Bin
There are a couple of minor flaws with this composter. Because the composter doesn't have a bottom cover, pests can get into the composter and sometimes the sliding doors get stuck. As well you will want to take some care when putting it together as the bolts are plastic and it takes very little to strip them.
Redmon Green Culture Compost Bin Order Link:

Redmon Composter
More about the Redmon Green Culture Compost Bin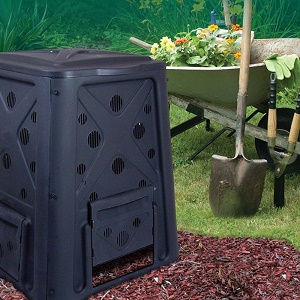 You will like the design because it is very wide and has plenty of air holes for circulation.
It is very easy to put together and should only take you five or ten minutes and no tools are required.
There is some difficulty in turning and extracting the compost, but that is to be expected given the design.
The lid snaps in place on two sides which keeps it from blowing off or getting pulled off by animals.
If you are on a budget, you should give this one a go.
You might want to have two bins, however, so that one batch can decompose without further scraps being added, while the other bin can be used for day to day waste accumulation.
Redmon Green Culture Compost Bin Video:
Redmon Green Culture Compost Bin Order Link:

Redmon Composter