The Teracotta Stack Composter is designed by Daily Dump and is well on its way to becoming a symbol for home composting. It has come a long way since its humble beginnings in 2006. This composter will fit into tight spaces making it an ideal composter for small yards, patios and balconies. Just layer your kitchen waste with compost starter daily for smell free and fool proof composting.
Teracotta Stack Composter Features
This is a stack composter
It uses the layer composting process
The composter is odor free and pest free
Makes a beautiful addition to any garden or patio
The terracotta material helps composting
Teracotta Stack Composter Description
The four tiers allow the user to cycle through each tier as they fill up with compost, thus ensuring that the process remains continuous and efficient. By simply adding in your food waste, then topping it with a layer of compost starter, your home can benefit from an easy composting process that is free of odors and rodents.
What we Liked Most about the Teracotta Stack Composter
We like the uniqueness of the design as it adds a level of beauty to the composting process. We also like that it is small and therefore makes it useful for small yards or patio areas.
What we Did Not Like about the Teracotta Stack Composter
Although this composter is for outdoor use, it needs to be kept out of the weather. It requires a sheltered area away from direct rain.
More on the Teracotta Stack Composter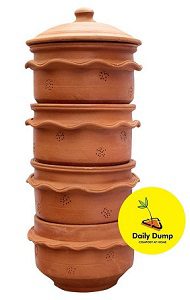 The composter is ideal for small homes and apartments as it fits in a small space.
The organic waste will reduce in volume by up to 80%.
You can layer your kitchen waste with compost starter for smell free composting.
For outdoor use only but works great for small spaces such as a balcony or terrace.
The composter should be kept out of the rain in a sheltered area.
The composter has holes in the surface and the porosity of the terracotta will regulate moisture and airflow.
You will be able to harvest composter when the base unit is full (about every 6 weeks).
This composter is made of handcrafted terracotta from artisan communities.
The modular design of the composter makes replacement parts simple and cost effective.
Teracotta Stack Composter Video: