The Mantis Composter Tumbler on Wheels allows you to recycle kitchen scraps and yard trimmings to create rich compost. It has been engineered for maximum efficiency in building a heat core, which is critical for fast decomposition of compostable materials. The compost will improve your soil's texture, boost its fertility and help plants resist disease.
Mantis Composter Tumbler on Wheels Features
Fully enclosed composter design eliminates odors and keeps pets/pests out.

Compost tumbler barrel features removable door for easy filling and emptying.

Air vent at top allows uninterrupted flow of oxygen into the compost bin.

Drainage vents helps excess moisture to exit the composter.

Assembled dimensions are 37 inches high by 31 inches wide by 26 inches deep.

Compost Tumbler is made in USA.
Mantis Composter Tumbler on Wheels Description
This moveable compost bin is perfect for smaller spaces. It is an easy to turn bin made from heavy-duty, BPA free, food-grade polyethylene. The interior fins help mix compost while turning, producing rich, loamy compost in four to six weeks. The green color will blend into landscape. The compost tumbler will hold up to 5 cubic feet (37 gallons, 4 bushels) of material.  The two big 6 inch wheels let you move the finished compost right to your garden beds
What we Liked Most about the Mantis Composter Tumbler on Wheels
We like that you can move this composter around the garden. This makes it easier to transfer compost to any area of the garden. Or you can roll it near the kitchen to add scraps. This makes for a very versatile composter.
What we Did Not Like about the Mantis Composter Tumbler on Wheels
We can't find anything to not like about this composter tumbler.  It is even easy to put together!
Mantis Composter Tumbler on Wheels Order Link:

Composter on Wheels
More about the Mantis Composter Tumbler on Wheels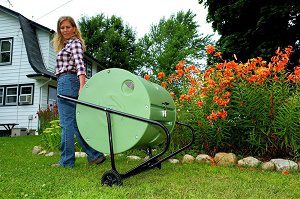 This composter is very easy to assemble and the hardware is clearly marked.
As well the instruction book is clear.
The price is right for the amount of composting you get from this bin.
It only takes a few weeks in the Mantis Composter to produce compost.
The composter is also very sturdy and turns easily.
You will love that you can move it around the garden when you need to add material or remove it from the bin.
Mantis Composter Tumbler on Wheels Video: