Considered the most beautiful composter in the world, the Envirocycle Composting Tumbler Bin has an innovative design. It has a composting tea collecting base which makes composting on your balcony, deck, patio or porch a pleasant and clean experience. Additionally, the composter brings beauty to wherever you may choose to use it because of its elegant design.
Envirocycle Composting Tumbler Bin Features
Produces solid and liquid compost.

Solid like a tank as it is made of food safe material.

BPA and rust free.

Made from UV and antioxidant protected materials.

Made in the USA. 

No assembly required.
Envirocycle Composting Tumbler Bin Description
This outdoor composting system combines a compost tumbler drum with a compost tea maker base. It is made from food safe, BPA and rust free materials. The drum rotates on top of the base to create solid compost. The base allows you to collect the excess liquid from the drum as compost tea, a precious liquid fertilizer.
What we Liked Most about the Envirocycle Composting Tumbler Bin
We like how it turns so the material mixes fairly well in the composter. Once it is full you can let it sit for several weeks as it makes new compost. Nothing else to do. As well reviewers have reported that the composter stands up to years of use and that the company that stands behind their product.
What we Did Not Like about the Envirocycle Composting Tumbler Bin
There really isn't anything to not like about this composter. However, some people do find it rather heavy to turn when it is full.
More about the Envirocycle Composting Tumbler Bin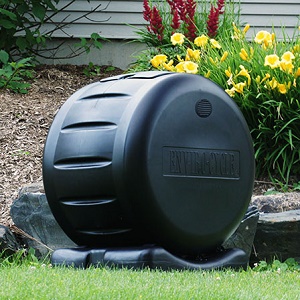 The composter has a latched door that you use to put material in and get compost out.
You can roll the composter close to the area where you want to use the compost or remove the compost in a wheelbarrow.
The composter produces both solid and tea (liquid) at the same time with the option to collect the tea or simply let it leach out of the bin.
The Envirocycle is very sturdy and well designed and holds a lot of material.
For the most part, the tumbler is very easy to turn and there is an option to remove the drain plugs from the base.
The composter holds lots of kitchen scraps but is also a good place to put your shredded documents which will keep the pile moisture consistent.
Envirocycle Composting Tumbler Bin Video:
Look at all The Great Composters!
---