This is a great alternative to a composting bin. With the Cascading Keyhole Composting Garden Bed you can continually use up your regular kitchen scraps to nourish your keyhole garden. The composting basket is the key to adding nutrients to your garden.
Cascading Keyhole Composting Garden Bed Features
Composter and garden bed in one
Requires less watering than a traditional garden bed
Center compost bin provides nutrients to boost the growth of your plants
Cascading Keyhole Composting Garden Bed Description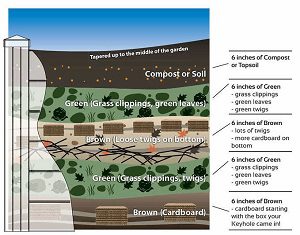 The keyhole garden consists of a raised garden with a unique Compost Tunnel that gobbles up your kitchen scraps and provides constant nutrients to the growing vegetables. This high performance garden bed uses about 80% less water than a traditional garden. Made from rot-proof PVC and stainless steel fasteners. All eco-packaging is fully compostable and is used in the garden at start up to help kick-start the system.
For best composting success use the Brown-Green alternating technique (see our image to the right) as this helps your compost work the best. The composting basket sits at the top of the Cascading Garden and extends to the very bottom, supplying nutrients to each garden bed. Your kitchen waste will be put to good use as it breaks down, feeding your vegetables and flowers with top-notch fertilizer.
What we Liked Most about the Cascading Keyhole Composting Garden Bed
We liked that you can do both composting and garden all in one place. No more dragging a composting bin around the yard to load kitchen and yard waste materials and unload compost.
What we Did Not Like about the Cascading Keyhole Composting Garden Bed
This is an entirely different form of composting so there is going to be a bit of a learning curve in figuring out how to use the garden bed. However, it does make composting and garden much easier.
More about the Cascading Keyhole Composting Garden Bed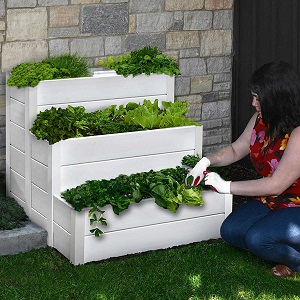 First made popular in Africa, the keyhole garden is catching on other hot, dry places.
A keyhole garden holds moisture and nutrients due to an active compost pile placed in the center of a bed.
Although most helpful in hot and dry locations, a keyhole garden will improve growing conditions in just about any climate.
Create your own fertile garden soil and reduce your kitchen waste in one move!
The Cascading Keyhole naturally controls weeds and reduces damage from rodents!
A byproduct of its unique design is increased air circulation and your plants will be healthier because of it!
Keyhole Garden Video: